The NewOrg Management System provides all of the features you would expect of the only complete data management system designed for non-profits. As well as the standard features, NewOrg incorporates a highly successfull philosophy for increasing fundraising and encouraging staff participation. With easy to use tools and reports, your development team will have easy access to donors and prospects, be able to quickly guage the success of campaigns, and be able to standardize correspondence and communications with donors, specific to their profiles.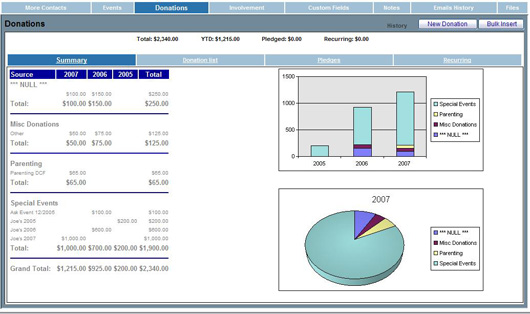 Donation Features
Simple to use interface for management and reporting.
Color graphs and reports make creating presentations fast and easy.
Quick and easy data entry.
Bulk donation entry.
Post or Export to major financial applications including QuickBooks, FundEasy, or Excel.
Track donations by campaign, event, class, staff member, etc.
Manage multiple accounts, financial or GL codes, and banks.