Whether your organization provides drug treatment, case management, outpatient therapy, counseling, or almost any other type of service, NewOrg can help you track clients, demographics, diagnostic information, service delivery, prescriptions, and just about anything else. This data can then be included in reports for funders, for operations, for productivity analysis, for payroll, and for outcome analysis.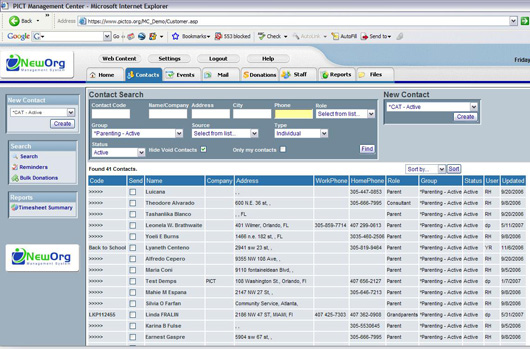 The NewOrg Management System is built on a flexible foundation that can be easily tailored to almost any type of organization. Custom fields can be created and arranged for ease of use and permissions can be assigned so that you collect the right data for each type of client and program, and only the appropriate staff can access it.
All of the general features of the application are already there, we will work with your staff to implement your data, rules, and business practices. Your organization can be up and running in less than 30 days. Most important, our staff are there to provide ongoing assistance as your needs change. We will continue to assist when you add new services, new funders, or require new field or reports. Best of all, your staff can learn to take care of many of these changes theselves and depend on our support for more architectural support and planning.
Take as much control as you like, we'll help your client/services management system grow with your organization and mission.